I bet many of you will be hosting cookouts this coming week as well as throughout the summer so I thought I would share a fun recipe and some tips for when you are hosting the party.
So fire up the grill and consider these tips:
*Prepare items ahead of time: Tackle the marinating, chopping, preparing side dishes & even having your plates, napkins and condiments ready the evening prior to your cookout.
*Serve the food and drinks buffet style
*Consider serving food in phases with kids going first.
*Clean the grill ahead of time!
*Get your guests involved. It is always a bummer being stuck alone at the grill. Therefore, make the grill part of the entertainment: Try grilling unique foods as this will always draw a crowd around you. Try grilling:
Pineapple: Oh my, if you are craving something naturally sweet, grill some pineapple as they become even sweeter and the way they caramelize is truly divine.
Octopus: Talk about impressing a crowd!
Potatoes: My grandma used to wrap them in foil and we would go crazy in anticipation. To speed up the process, use baby red or quarter your potato of choice.
Pizza: Yes, pizza. I am sure you have heard of this phenomenon. you.must.do.it. Can you imagine the looks on your friends faces, when you serve a grilled Thai pizza?
Lettuce: Yes, you read lettuce. Look what I made and trust me, it will be a hit!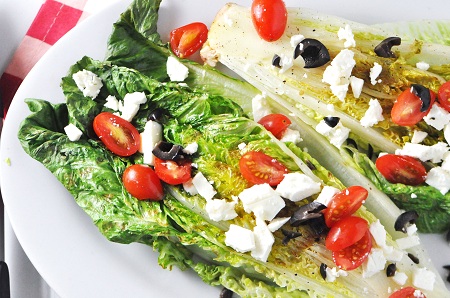 Grilled Romaine Lettuce with Feta, Tomato & Olives (Yield = 4 servings)
Ingredients:
2 heads of organic romaine lettuce
1 teaspoon olive oil
Pinch of coarse salt and ground black pepper
1/3 cup chopped feta
1/3 cup sliced organic grape tomatoes
1/4 cup chopped olives
Directions:
1. Preheat the grill at medium to medium-high heat.
2. Cut each head of romaine lettuce lengthwise, brush a thin layer of olive oil on the cut side and dust with a bit of salt and black pepper.
3. Place the romaine lettuce, cut side down on the grill and cook for about 2-3 minutes, when you have some nice brown grill marks.
4. Scatter the feta, tomatoes and olives on top and cut up for serving.
These are just a few of my tips for grilling while also being the host. I would love if you would share your tips with me! One of my lucky readers who answers below will win a $25 Sears Gift Card!
This is a sponsored conversation written by me on behalf of Sears. The opinions and text are all mine. Official Sweepstakes Rules.