Do  you remember the other day when I shared the Baked Sweet Potato French Fries with Parmesan & Cilantro? In that post, I told you to stay tuned for the dip recipe and so today is the day.
Yes, today is your lucky, spicy, delicioso day because I am sharing the Sriracha Sour Cream Dip Recipe!
It is simple. It is happy. It is fun.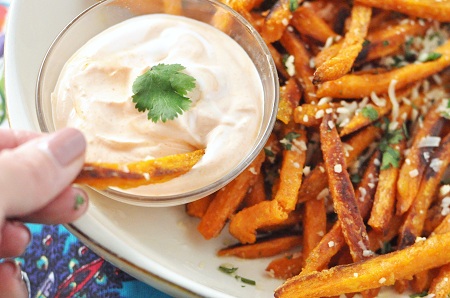 Sriracha Sour Cream Dip (Yield = 1 cup)
Ingredients:
1 cup reduced fat Sour Cream
2 Tablespoon Sriracha sauce or to taste
Directions:
Combine, mix well and adjust to spiciness preference.
Why dip one when you can 'double' dip?