It is not easy being an Heirloom Tomato. Some call you Ugly.
Why should we call this big ole' meaty tomato 'Ugly'? Just because there are some puckers and wrinkles?
Considering most of us have puckers and wrinkles, I find the description unacceptable. I suggest we call the Heirloom tomato the 'prettiest tomato ever!'.
Yup, much better.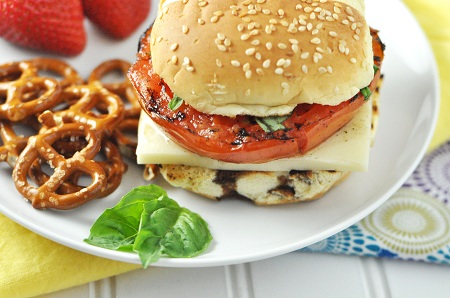 The Caprese Burger: Heirloom Tomato, Mozzarella & Basil (Yield 4)
Ingredients:
4 Hamburger buns
4 thick slices of tomato (I used Heirloom)
olive oil
salt and pepper
4 thick slices of Mozzarella
8 large basil leaves, sliced
balsamic vinegar, optional
Directions:
1. Heat the grill over medium high heat. Drizzle olive oil, salt and pepper on the tomato slices and place on the grill.
2. Grill the bun for a minute if you wish, place a slice of mozzarella on the bottom part of the bun.
3. Place the grilled tomato on the mozzarella, add basil, balsamic vinegar and top with the remaining part of the bun.