If you're new here, you may want to subscribe to my tasty updates.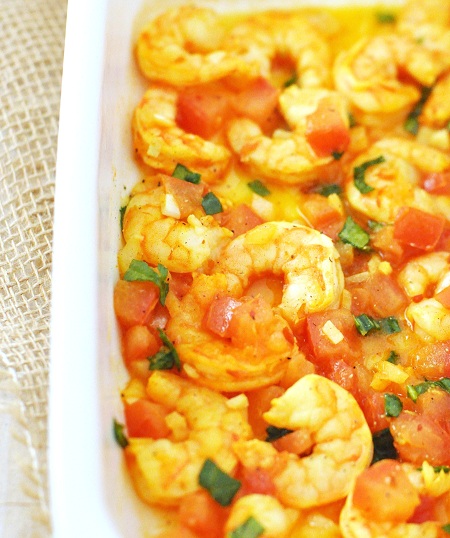 My son said "Mommy, you have to be married to have a baby right?'
"Yes honey, you do (as I shifted my eyes and looked for others who might counter that statement)."
"But I don't want to get married because I don't want anyone to tell me what to do"
I said nothing.
Pick your lower jaw off the floor.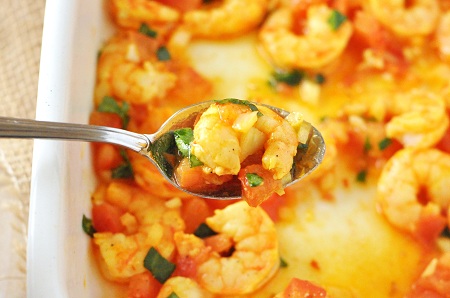 Easy Baked Shrimp Recipe (Yield = 4 appetizer servings or 2 main dish)
Ingredients:
1 lb. 31-40 count raw shrimp, shelled and deveined
1 tablespoon extra virgin olive oil
1 tablespoon white wine
1 teaspoon lemon juice
1 clove of garlic, roughly chopped
1 medium tomato, roughly chopped
1/3 packet of Goya Azafran
1 teaspoon hot chopped pepper from jar (I used Antonio's in the International section of your store)
1.3 cup chopped sweet onion
1 large handful of fresh parsley, chopped
Directions:
1. Preheat the oven to 350 degrees F
2. Place the shrimp in a large bowl, add all remaining ingredients and toss well.
3. Place in a casserole dish and bake for 10-12 minutes.
If you are wondering why I called this recipe 'Portuguese inspired is because my mother in law brought us the tomatoes and parsley straight from her garden. In addition, this reminds me a bit of Shrimp Mozambique.