Whuhmp, Whuhmp, Whuhmp, Whuhmp…..nee-naww nee-naww, nee-naww nee-naww……..rat a tattattatrat a tattattat, rat a tattattat……..
Those 'words' are my attempt to describe the sounds the MRI made yesterday.
I want you to take those noises and make them obnoxiously loud, five inches from your face and ongoing for repetative four minute segments.
Plus, you are in a tunnel where you are essentially strapped down and are not allowed to move…..for like 45 minutes.
And don't swallow because that causes movement and then the image is blurry and you have to do it again.
But, I did it. For the first minute when they slid me into the machine, I thought I was not going to be able to stay in there but I focused on a scratch on the top of the tunnel and thought, we need to see what is going on in your neck right now Jen so make it happen.
One deep breath later and I gave them the thumbs up.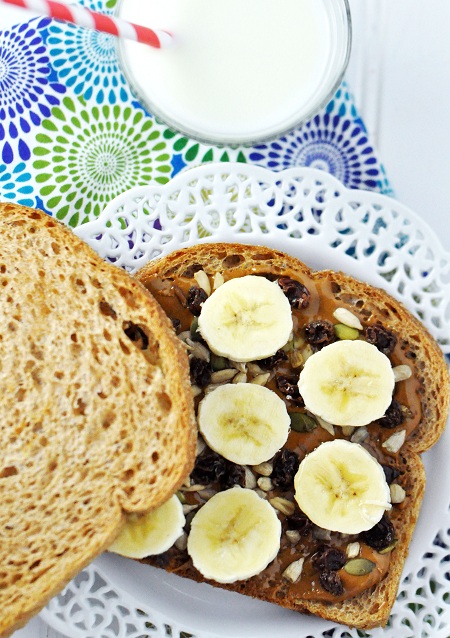 I was dizzy afterwards and my neck was in pain from keeping my head still and a bit arched all that time but I did it. So now we wait and go on with the daily beauty of our lives. This week Gymnastics team starts and soccer practice continues so the constant need for food and energy is in high demand.
Today I share another Linner/Dinner #1/Dinner #2 ideas to keep those kids going between the after school snack and the main dinner. You didn't miss the first Linner idea did you?
Banana Nut Honey Energy Sandwich (Yield = 1)
1 slices of whole grain bread (customize to your diet)
1 tablespoon nut butter (peanut, almond, sunflower seed etc)
1/3 banana, sliced
A handful of trail mix (I used Nature's Promise mix but remove dhte cashews and almonds)
A drizzle of honey or agave nectar
Directions:
Compile and chow down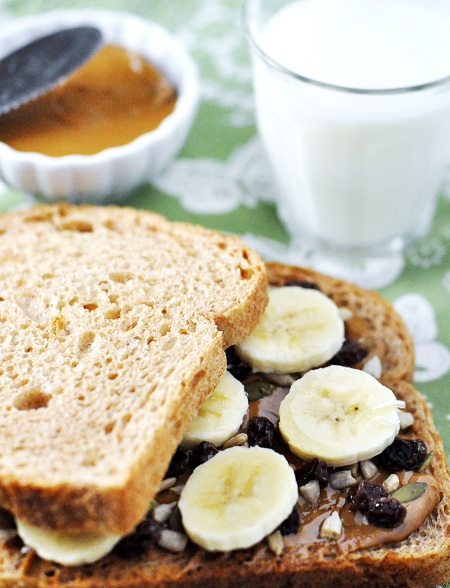 Are the photos too repetitive? Ah, what the heck, it reminds me of the repetitive sounds of the MRI. Whooka, Whooka, Whooka….