I have another confession to make: Since I have not been feeling well and have been spending a good chunk of time going back and forth to doctors' offices and to physical therapy, I have not been organized in regards to planning ahead when it comes to food as I usually do. Therefore, I have been grabbing a few more on-the-go items for myself.
Since I have found myself in Warwick, RI a number of times the past few weeks, I stopped into Trader Joe's to grab some lunch.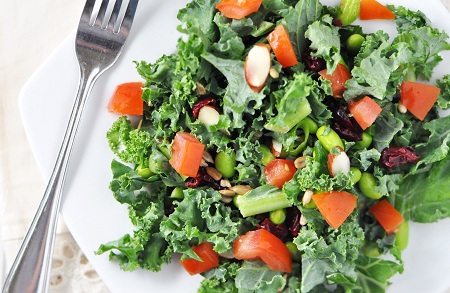 One such stop was when I went to Urban Sweat. I was hungry when I left and ran into TJ's to grab some drinkable yogurt and saw they were handing out samples of cheese (hello!) so I walked ran over. They were also giving out samples of their Bistro Salad. I asked the woman what was in the salad and have now made it at home more than once.
I don't know exactly how much of each ingredient they use or if they even measure it out so don't panic. Just toss these items in a bowl and be happy!
Kale & Edamame Salad (Yield = per person or as much as you want)
Ingredients:
Kale, washed, dried and torn
Edamame, cooked, cooled, unsalted
Sweetened dried cranberries
Tomato
Sliced almonds
Scallions
Dressing
Directions:
Combine all in a bowl and toss with your favorite dressing. Oh, I also tossed on a few sunflower seeds at the last minute.
Isn't this recipe fun? Plus, it looks impressive for a salad right? right…..