This morning I kissed my son's sweet round cheeks and whispered 'Good Morning'.
He stretched, kicked off his blanket, yawned, rolled over and sort of yelled 'Why do my legs feel like rubber bands every morning?!'
I replied 'That is how Mommy feels every morning before she drinks her coffee.'
Since Mommy also seems to acquire the rubber band legs by late afternoon just about dinner time, I was super sleepy the other day and could not think up a dinner recipe so I went back to staring at the September edition of Everyday Food. I decided to modify their garlic-lemon pork recipe and Voila: Dinner!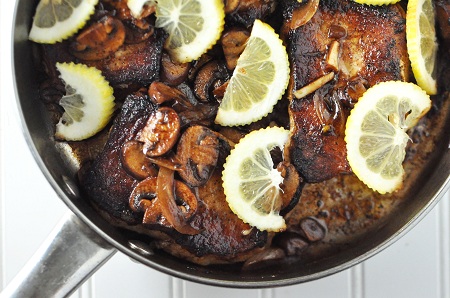 Sauteed Garlic Lemon Pork Chops with Mushrooms & Onion (Yield = 4)
adapted from Everyday Food, Sept. 2012
Ingredients:
2 teaspoons olive oil
1 tablespoon unsalted butter
4 boneless pork chops 1/4 to 1/2 inch thick
A few pinches of salt and pepper
1/4 cup flour (all purpose or whole wheat)
1 lemon
4 oz sliced mushrooms
1/3 sliced sweet onion
3 cloves of garlic
1/2 cup low-sodium chicken broth
Directions:
1. In a large skillet, heat the olive oil and butter over medium-high heat.
2. Season the pork chops with salt and pepper. On a plate, place the flour and then zest the lemon right over the flour and place the lemon aside. Coat each pork chop with the flour-zest mixture on both sides and place into the skillet and cover with a splatter screen. Cook for about 2-3 minutes depending on thickness. Repeat on the other side and then place the chops on a plate.
3. Reduce heat to medium-low and allow the pan to cool a minute. Add the mushroom to the pan and allow to saute for 2 minutes. Add the onion, saute for one minute and then add the garlic and cook about 30 seconds.
4. Increase the heat to medium and add the chicken broth and scrap the bottom of the pan. When the fluid is reduced by about half, add the pork back into the pan. Cut the lemon in half, juice half of the lemon and gently add the juice to the pan. Cut the remaining half of the lemon into slices, toss them into the pan and cook for another minute or so. Serve.
Are you a 'morning or evening person'?