In three days it will officially be Autumn. Autumn represents cooler weather, changing leaves and tailgating season! This is the big time of year for football and soccer games, as well as the parties and food rituals that surround them. For our family, that also means tailgating at the Soccer game each week.
My favorite part of the tailgating ritual is the adult socialization and seeing what fun 'game food' everyone brings to share. This week I am trying out the Ultimate Tailgating Buffalo Chicken Sub Sandwich.
Now do not tell my husband but I am surprising him for his birthday in a few weeks by hosting some of his friends for a casual get together to watch a game (he never takes the time to watch an entire game as the kids want him to play on the weekends) and am going to make these Ultimate Buffalo Chicken Subs on King's Hawaiian mini sub rolls (also called grinders here but I know you Hoagie folk don't take kindly to that) as he is a huge Buffalo Chicken fan.
I know some of you would be offended if I did not include some carrots & celery on the side so this is for you…..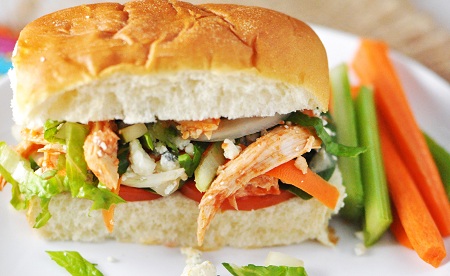 You can wrap them in parchment, tie some in red to signal 'heat' and then cut them in half for easy handling.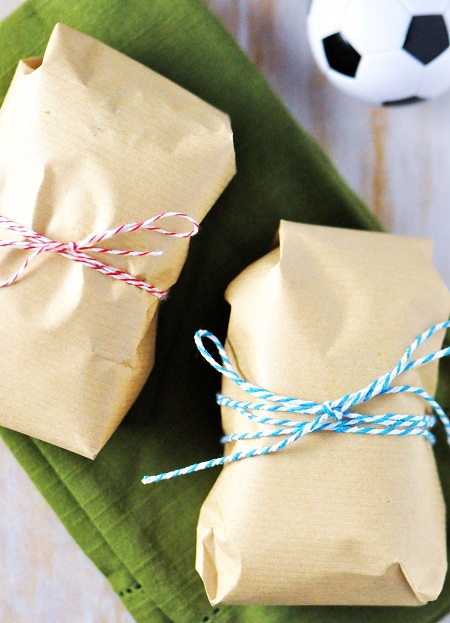 The Ultimate Tailgating Buffalo Chicken Sub Sandwich (Yield = 4)
Ingredients
4 King's Hawaiian Mini Sub Rolls
Cooked chicken breast meat from either a Rotisserie chicken or one cooked breast, shredded
2 tablespoons Frank's original sauce or Sriracha
1 tomato, sliced
A handful of baby spinach
1/4 sweet onion, sliced thin
2 pickles, chopped (we make our own – yum!)
1/2 carrots, peeled into thin strips
1/2 celery stalk, sliced thin
1/2 cup crumbled blue cheese
1/3 head of Romaine lettuce, thinly sliced
Directions:
1. Shred the chicken and place in a bowl, top with either Frank's or Sriracha. Mix well and set aside.
2. Open all four King's Hawaiian mini sub rolls and beginning with the bottom half, stack the ingredients as you wish, place the top of the sub roll on the pile of ingredients, press firmly and enjoy or wrap.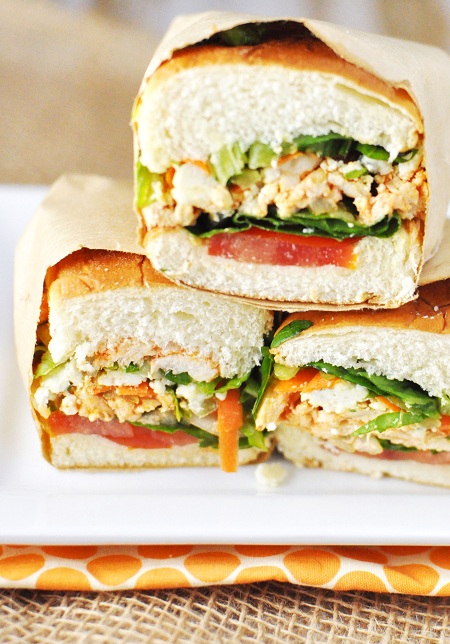 KING'S HAWAIIAN has an all-star line-up of sandwich products which includes: Mini Sub Rolls, Sandwich Buns, and Hamburger Buns and Hotdog buns.
Whether you are at your kid's game or the stadium, KING'S HAWAIIAN is a great choice for a family tailgate.
What is your family's favorite part of game day? Comment below and be entered for a chance to win $200 to put towards your next game day event.
This is a sponsored conversation written by me on behalf of Kings Hawaiian. The opinions and text are all mine. Official Sweepstakes Rules.