Recall back in May when I went to Boston and dined at Post 390? Well, I went up there for an introduction and demonstration of the Ninja cooking system. I am sure you have seen the infomercials by now and to be honest, I LOVE that you can do so much more than 'slow cooking' with it.
I received my cooking system a week ago and have been a bit obsessed with it. So far I have made the shrimp scampi with angel hair, and this recipe, both of which are from the cookbook that comes in the package.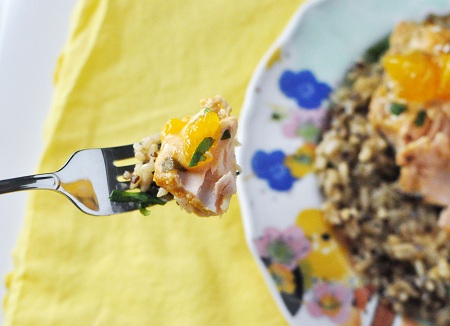 I love how quickly it heats up and how easy it is to clean. Plus, I love that I don't have to empty out all the miscellaneous cooking sheets etc. out of my oven when I need to cook. Shhhh, that is our little secret. Right?
Apricot Mustard Sesame Seed Salmon (Yield = 4 )
adapted from the Ninja Cooking System Cookbook
Ingredients:
2 cups of water
1/4 cup apricot preserves
2 Tablespoons Dijon mustard
1 teaspoon sesame seeds
1 tablespoon chopped fresh cilantro
salt and ground black pepper
1 1/2 lbs. Salmon divided into 4 pieces.
Directions:
1. Combine preserves, mustard, sesame seeds and cilantro in a bowl. Pour water into the Ninja 3-in-1 Cooking System.
2. Season the salmon with salt and pepper and place on the steam rack. Spread the preserves mixture on the salmon and then place the steam rack into the cooking system.
3. Set the system to oven, 400 degrees for 20 minutes however, if you have thin fillets, check after 10 minutes.
If you do not have the cooking system: Preheat your oven to 400 degrees, perform step 1, place the salmon, skin side down, on a non-stick baking sheet and bake until salmon is cooked through, about 12 to 15 minutes.
Disclosure: I was provided with a Ninja Cooking System as part of my work on the panel however, I was not asked to write about it. I love it!