Just like chicken, fish can get boring too. Actually, most people complain that the whole 'What's for Dinner' conundrum gets boring but heck, I am doing the best I can to help you out.
This recipe was created after being inspired by this cornmeal crusted trout recipe. I wanted to skip the frying and use a fish that I know already has the thumbs up from the family: Tilapia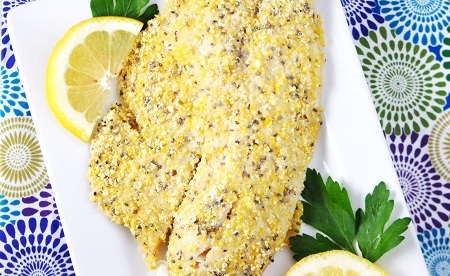 Cornmeal & Chia Seed Crusted Tilapia
Ingredients:
4 boneless tilapia fillets (1 pound total), patted dry
A few dashes of Kosher salt and ground black pepper
1.5 Tablespoons low-fat mayonnaise
3/4 cup cornmeal
1/2 teaspoon chia seeds*
1/2 teaspoon garlic powder
olive oil cooking spray
Directions:
1. Preheat the oven to 400 degrees Fahrenheit.
2. On a plate, toss together the cornmeal, chia seeds, garlic powder, and a dash each of salt and pepper.
3. Place a cooking rack onto a baking sheet, spray lightly with olive oil/non-stick cooking spray and set aside.
4. Sprinkle some salt and pepper onto each piece of fish, followed by a smear some of the mayonnaise and then invert the fish into the cornmeal mixture. Press firmly and then flip the fish over and place onto the cooking rack.
5. Bake for 15-20 minutes depending on the thickness of the fish.
*Do not add more chia seeds or else you end up with an overly crunchy fish instead of one with a nice texture.
Here is my husband's own special addition: