This past weekend, we spent the weekend in Providence as we were attending the Hood Cook-off.
On Saturday night, we went to The Cheesecake Factory and I ordered the Santorini Farro Salad and during the first bite, I mumbled 'I so gunna make dis for di bog'.
So, today I share my inspired version of it and now you need to try it as well. Go ahead and then write me a comment of what you mumbled during your first bite.
Double dare ya!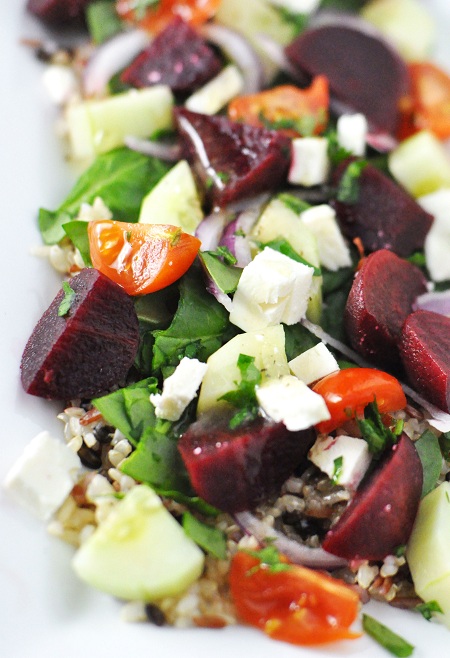 Oh, look closely as there is something different in that photo: yes, I drizzled it with a vinaigrette. You really want this badly now, don't you?
Steamed Beet & Whole Grain Barley Salad (Yield = 2 nice servings)
Ingredients:
1 cup of Trader Joe's Rice Medley, cooked and cooled
3 peeled and steamed beets (prepackaged from Trader Joe's)
1/3 cucumber, peeled and cubed
1/4 small red onion, sliced
6-8 grape of cherry tomatoes, cut in half
A handful of baby spinach leaves, roughly chopped
1/4 cup crumbled reduced-fat feta
Fresh herbs, minced
Your favorite vinaigrette
Directions
1. Prepare the rice medley according to package directions OR simply make your own barley, farro, quinoa etc. and let cool or chill in fridge.
2. Prepare the remaining ingredients from beets to herbs and toss together in a bowl. Place a cup of the whole grain and top with the beet mixture and lightly drizzle on your favorite vinaigrette. Toss and dig in!
A full report on the Hood Cook-off coming soon!