Last week, I forced myself to go out, not once, but twice. It was a case of mind over matter, or body in this case.
I felt exhausted, my throat was in its' constant state of pain but I needed to see my friends. Both of these friends are very patient and understanding about my voice and the pain that I feel when talking (or not talking for that matter).
I alternate every few minutes between making myself talk to them because I want to chat and engage and 'be me' versus the pain that causes me to retreat and use facial and hand signals. However, I wanted to be there to listen to them, plan some school activities and try out the new restaurant in town.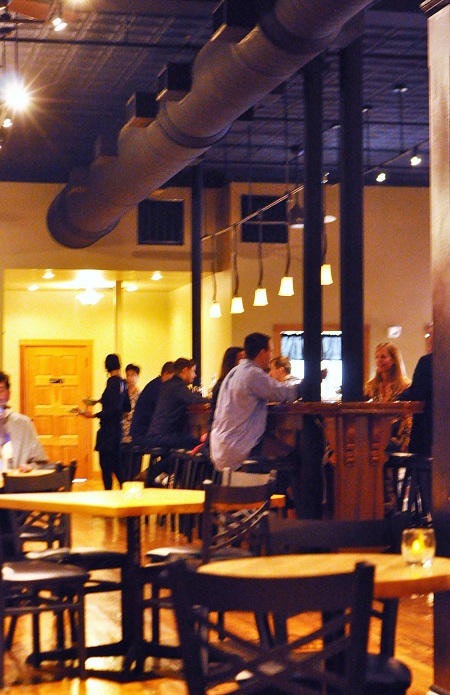 The restaurant is called 'The Twisted Vine' and I bet you are wondering 'Is it good? No, it was great. So great that I went two nights last week: once with friend 'K1' and again with friend 'K2'.
The food and atmosphere was fabulous. We googly-eyed each other when we bit into the fried plantain (YES!) served with the grilled cheese sandwiches…..then rolled our eyes when we bit into the grilled cheese sandwiches….and we may have even bounced a little when we ate the items I describe below.
See, you don't always communicate by talking.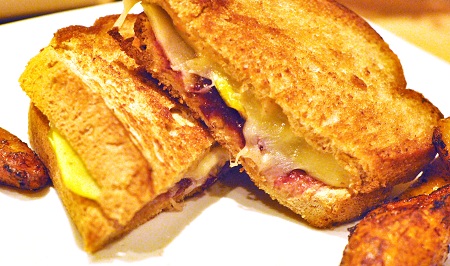 The first night I shared the goat cheese and fig preserves grilled cheese with friend 'K1' but selected the cheddar, cranberry and apple sandwich( shown above) on the second night to share with friend 'K2'. The friend plantains were such a fun surprise and took me back to childhood when my mom used to make them for us. I have to make those for my kids.
Both evenings we had the shrimp kabobs and they were so juicy, we had to dab the corners of our mouths with a napkin. The first evening that I went, 'K1' and I were blown away by the Greek meatballs (no photo).
After the first evening, I walked in the door at home and scribble a note to my husband that said 'We are booking the sitter stat so we can go to The Twisted Vine!'
Note: I plan on having the 'Capote' Grilled Cheese next time which is topped with vanilla mascapone and caramel sauce.