Not to pat myself on the back, but I think I may be crowned the Queen of Leftovers by the end of this week.
Recall, that I told you that I made roasted butternut squash and potatoes along with a Kale salad for Super Storm Sandy guests right?
Well, I took those bad boys and tossed them on a pizza shell along with some Ricotta I bought to make a big lasagna and Voila!
Oh, the fried onions only came about when my daughter saw them on the 'clearance' rack and said 'Daddy would love the crunch!'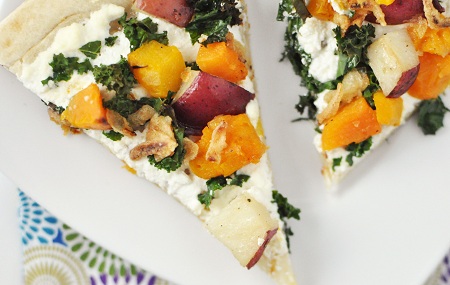 Trust me, it is good!!
Kale, Butternut Squash, Potato and Ricotta Pizza with Fried Onions (Yield = 8 slices)
Ingredients:
1 premade pizza shell, preferably  whole wheat
1 teaspoon olive oil
1/2 cup light ricotta
a handful of kale, chopped
3/4 cup or so of roasted butternut squash
1/2 cup or so of roasted red potatoes
fried onions, optional
salt, pepper and red pepper flakes to taste, optional
Directions:
1. Preheat oven as specified on pizza shell.
2. Evenly spread the olive oil followed by the ricotta and all other ingredients.
3. Bake 10-15 minutes or as specified on pizza shell packaging.
4. Dust with salt, pepper and red pepper flakes if you wish. Grab a few pieces and hide before someone tries to steal them from you!
Do you enjoy 'White Pizza?'