Every day the kids are allowed to have an endless supply of water, one diluted apple or orange juice if they wish and a glass of milk (normally cow or almond). In order to make sure they have a supply of water for school at their desk each day, we buy a few reusable bottles before school starts in September.
I was thrilled to find that Brita was now making a Brita bottles for kids. They are BPA free, not to bulky, dishwasher safe and as we all know; the Brita filters remove the chlorine taste and odor from tap water. The kids can refill them easily and I know they are getting a filtered drink of water.
I enjoy having a water bottle that filters as sometimes, you are not quite sure about the local sources of water you may need to grab from so this helps alleviate some concern.
My son enjoys his sports themed design: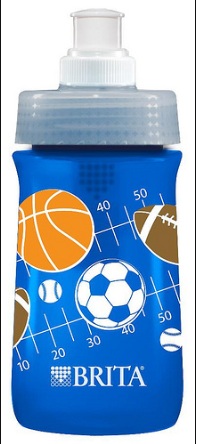 Besides school, the kids always have a bottle with them for Soccer, Gymnastics and just about anytime we even head out the door. In case you are wondering, they are quite affordable at $8.99 and I found the replacement cartridges at a local grocery store.
Why is drinking water important for you in regards to keeping your family healthy? What are ways you are creating healthy habits for you and your kids?
The Brita Bottle for kids is a 13 oz. squeezable and reusable bottle with a built-in filter that provides an affordable, fun and convenient solution for kids to drink great-tasting water on the go.
Available in three bright colors and a kid-friendly size, the Brita Bottle for Kids is BPA free and dishwasher safe. The Brita Bottle for Kids makes drinking water fun for kids and is a convenient way to parents to keep their kids hydrated while on the go.
This is a sponsored post written by me on behalf of Brita. The opinions and text are all mine.