Please do not click away based on the first photo. I have rectified the situation by the end of the post and placed the chili stew in a bowl.
Why did I call it chili stew? One reason is that I could not decide which name I preferred and the second reason, is that today's meal is about comfort and both chili and stew are comforting words.
Today, many of us food bloggers are teaming and linking together for the month November in hopes of encouraging you to donate, in some way to the Sandy relief efforts. More information below!
But first,the yummy Chili Stew that I made for you!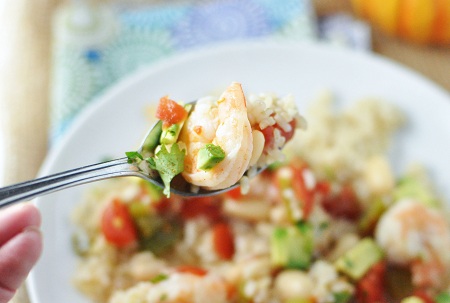 Shrimp & White Bean Chili Stew (Yield = 6-8 servings)
Ingredients:
2 teaspoons olive oil
1/2 large sweet onion, chopped
1 medium green bell pepper, chopped
2-3 cloves garlic, minced
1 teaspoon old bay seasoning
1/2 teaspoon oregano
1-2 cups vegetable or chicken stock
1 28-ounce cans no-salt-added diced tomatoes
3 15.5-ounce cans of white beans (I used canellini and great northern), juice included
1 pound raw shrimp, (31-40 per pound, peeled and deveined)
Kosher salt and ground black pepper
1/2 avocado, chopped
Handful of fresh cilantro, roughly minced
Directions:
1. Heat oil in a large pot (or ninja cooking system) over medium heat. Add the onion and bell pepper and cook until softened, about 3 minutes.
2. Add garlic and cook for 30 seconds followed by the seasonings, stock, tomatoes, and beans. Stir well, bring to a simmer and then reduce heat. Stir in the shrimp, turn off the heat and serve in about 10 minutes.
3. Season to taste with salt and pepper, toss on the avocado and cilantro to serve.  
Thank you to Barbara of Creativ Culinary and Jenn of Jenn Cuisine for organizing this effort. From her blog: '
It's as simple as sharing a comfort food with your readers and urging them to make a donation; no matter how small. Blog about your recipe and share it on Facebook and on Twitter using the hashtag #FBS4Sandy. Please join us in sending a message of comfort and calling for donations to help those in such need.
It really is a time when 'every little bit helps' so please join us. Give a little or give a lot but whatever else? Please do something.  We've included the code for a badge you can include in your post and it links to the American Red Cross; an organization known for acting quickly and efficiently in times of need and what they need most now are your dollars. Some of these photos are truly heartbreaking…how can we not help?
Don't have a blog?
No worries …but please donate to help those in need. Who to donate to? Several organizations are dedicating themselves to helping the victims of hurricane Sandy. Some of the larger ones include:
American Red Cross is providing food, shelter, and other forms of support to hurricane victims. You can donate directly to the Red Cross or you can also text the word "Redcross" to 90999 to make a $10 donation.
The Salvation Army is also focused on providing food, shelter, and support to victims, and takes donations for storm relief.
Feeding America is providing food, water and supplies to those who need it as part of their disaster relief program.
We'll be tweeting using the hashtag #FBS4Sandy; be sure to ask your friends to join us. I hope this effort manages, in some small way, to wrap the arms of the food blogging community around those who are in such need; we have a lot to give!
Here is the reassuring Chili Stew in a bowl and I even added some cheese for you. Yes, you may enjoy it with some cornbread.