Have you buttoned your pants yet?
Wearing stretch pants?
Have a ton of Turkey and miscellaneous vegetables leftover from Thanksgiving?
Me too, so unpack the fridge and make this soup!
Looks like Turkey is a thinking: 'Hum…..maybe I should get out of here?'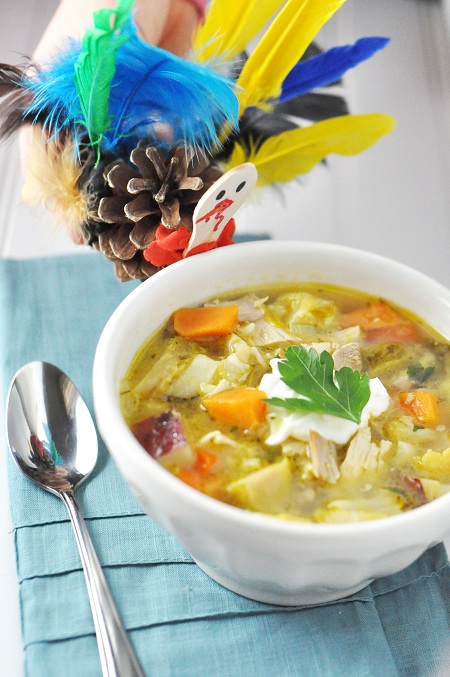 Turkey & Toasted Barley with Vegetables Soup
adapted/blended from foodnetwork.com & eatingwell.com
Ingredients:
2 teaspoon olive oil
1/2 onion, minced
1 carrot, halved and minced
2 celery stalks, minced
2 cloves of garlic, chopped
1/2 pearl barley
8 cups of reduced sodium chicken broth
2 bay leaves
3 cups turkey meat, skinless, shredded and in bite sized pieces (white & dark if you wish)
3 cups leftover cooked Thanksgiving side vegetables (Brussels sprouts, sweet potatoes, cauliflower, what have you)
salt, ground black pepper and seasonings of choice
Directions:
1. Heat oil in large heavy pot (4- to 6-quart capacity) over medium heat. Add onion, carrot and celery and cook, stirring, until softened, 2 to 3 minutes. Add garlic and cook while stirring, for 1 minute.
2. Add the barley and stir frequently for 4-5 minutes (if you prefer not to toast the barley, just mix and perform next step). Turn the heat to high, add broth and bring to a boil.
3. Reduce heat to low. Cover and simmer for 20 minutes.
4. Add the turkey and vegetables, and allow to simmer for about 10 minutes. Taste and add seasoning. Allow to simmer a few minutes so flavors can meld. Serve hot.