I bet some of you are in the midst of planning a Holiday soiree but want to do something original. Why not consider throwing a 'coffee themed' party?
Naturally, you would plan on serving some regular, decaffeinated and flavored coffees but what could you serve with them?
Think outside of the coffee cup by offering a variety coffee food! Yes, I wrote coffee based food but what I mean is recipes using coffee in them.
Here are my Top 5 Tips for Hosting a Holiday Coffee Party:
1. I think a Chocolate Coffee Bundt Cake is a perfect pairing with any beverage. Plus, by drinking coffee while eating it would further enhance the coffee flavor in the cake.
2. How about some Coffee & Maple Syrup Glazed Slow Cooker BBQ Ribs? For this delectable finger food (extra napkins please), I used a concentrated coffee syrup.
3. Following on the BBQ finger food theme, serve this Slow Cooker Balsamic Honey Coffee BBQ Pulled Pork Recipe on sliced baguette.
4. If you are looking to serve an adult beverage, plan on serving a Coffee Martini.
5. For dessert, a luscious Mississippi Mud Pie. I mean, really, why not find a way to use coffee ice cream when you can?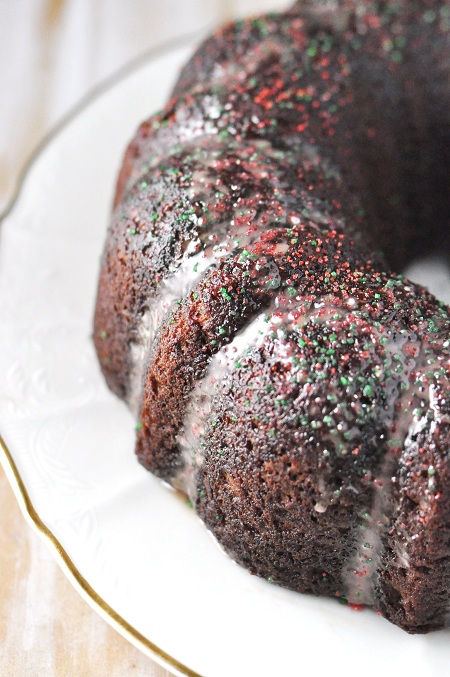 Chocolate Coffee Bundt Cake Recipe (serves 8 -10)
Ingredients:
2 cups unbleached all-purpose flour
1/2 cup WW pastry flour (use all-purpose if you do not have pastry)
1/2 cup sweetened cocoa powder
1/2 teaspoon baking soda
1 1/2 teaspoons baking powder
1/2 teaspoon salt
3 eggs
3/4 cup coffee syrup (already contains sweetener so if use double-strength coffee instead, increase sugar by 1/2 cup)
1 1/2 cup packed brown sugar
1/2 cup canola oil
1 cup applesauce, no sugar added
1 teaspoon vanilla extract
baking spray
1 cup confectioner's (powdered) sugar
3-4 tablespoons coffee syrup
1 tablespoon milk (I used 1%) or water
Directions:
To make the cake batter:
1. Preheat the oven to 350 degrees Fahrenheit.
2. Place flour through salt in a sifter and sift into a large bowl.
3. In the bowl of a stand mixer fitted with the whisk attachment, beat the eggs for 30 seconds on low. Add in the coffee syrup, brown sugar, oil, applesauce and vanilla extract and mix on low speed for about 1 minute.
4. Pour about half of the flour mixture into the mixer and mix on low for 1 minute. Add the remaining flour mixture and mix on low for a minute. Scrape down the sides of the bowl and then mix on medium speed for 3 minutes.
5. Spray the bundt pan with baking spray and pour the batter into the pan. Bake for 45 minutes and test with a knife to see if it comes out clean.
To make the glaze:
Combine the confectioner's sugar, coffee syrup and milk. Add more of each ingredient to reach the desired consistency and drizzle on the cake.
Breville has released new, time saving products such as the YouBrew, just in time for the holidays! Create your perfect cup or pot of coffee instantly and easily with the Breville YouBrew. Check out their website for more information on this product and other great gift ideas.
And don't forget to reply below for two chances to win your choice of amazing Breville products either for yourself or as a gift to a loved one: YouBrew, Tea Maker and Smart Oven products ($250 ARV)
This is a sponsored conversation written by me on behalf of Breville. The opinions and text are all mine. Official Sweepstakes Rules