Talk about a gift of time! Yes, the gift of time.
Picture your friends who work long hours. The friends with kids. The friends who want flavorful food but have no idea what the heck to do or how to do it: Introducing the savory compound butter for Christmas.
Have a naked whole chicken? slide some some this under the skin and roast.
Have some veggies you want to saute? toss them in a pan with some of this butter.
Have some fish you want to bake and not dry out? top with some of this butter and you are golden.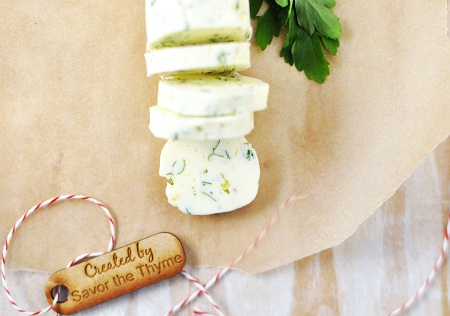 Super simple to make. Super affordable. Super awesome (which is what your friends & family will say when you give this to them)
Savory Compound Butter Recipe with Sage, Rosemary, Thyme & Lemon
Ingredients:
8 tablespoons of high quality unsalted butter, room temperature
1/4 teaspoon of dried sage
1/4 teaspoon of dried crushed rosemary
1/4 teaspoon of dried thyme leaves
1 teaspoon fresh lemon rind
Directions:
1. Place the butter and all seasonings in a bowl and using a fork, mix well.
2. Now you can either: wrap the mixture in wax paper, forming a log and refrigerate for at least an hour or place the butter into a glass container and refrigerate for at least an hour.
3. Decorate or wrap the butter for gift giving but be sure to keep it chilled or even freeze it before you deliver the gift.
For a stronger herb flavor, add a 1/2 teaspoon of each herb rather than a 1/4 teaspoon.
p.s. If you are the keep-it-simple type of DIY'er, consider this Peanut Butter & White Chocolate Bark with Brown Rice Cereal or Cinnamon Sugar Vanilla Compound Butter