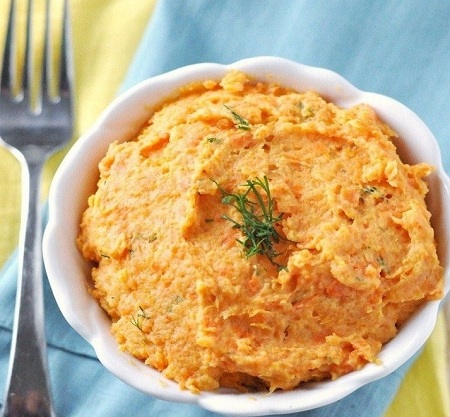 Being a Mom, I am a big believer in teaching family (and friends) to try new foods and to explore their palates.
For instance, a mashed potato recipe usually calls for white potatoes with lots of butter and cream. How about your consider making the next batch using sweet potatoes and getting the creaminess (and fiber) from beans, reduced fat feta and almond milk?
Also, seeing that it is the New Year, many think they have to give up comfort foods however, I prefer to think of it as a way to expand on our favorite comfort foods without expanding our waistlines.
By simply using the PureAlmond Unsweetened Milk (30 unthinkably low calories) instead of skim milk, which typically has 80 calories per serving, you are saving over 50 calories. Factor in that you are using reduced fat feta instead of regular feta, and adding the fiber of the beans, and you can see why this is a better mashed potato choice.
No pouting is allowed my friends as after you try this mashed sweet potato recipe, you will be writing me thank you cards.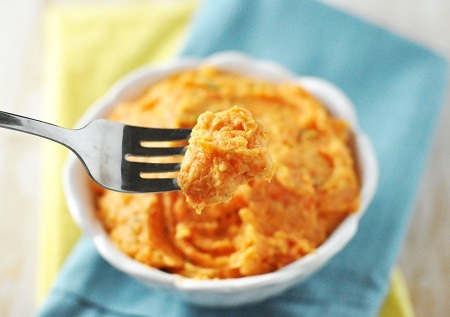 Now you are thinking 'Jen, where can I get some more absolutely wonderful recipes using PureAlmond Milk' right? Right here on Facebook my friend!
Mashed Sweet Potatoes with White Beans & Feta (Yield = 6 servings)
Ingredients:
2 lbs. sweet potatoes, peeled and cubed
1 cup PureAlmond Unsweetened Milk
½ cup crumbled reduced fat feta
½ cup canned great northern white beans, rinsed
2 Tablespoons of chopped fresh parsley, dill or any favorite herb
Salt and fresh ground pepper, to taste
Directions:
1. Make a few small slits in each sweet potato and lightly wrap each one in a moist paper towel. Place them on a plate and microwave on high for 6 minutes. Check to see if they are soft and if not, microwave in 2 minutes increments until soft. Set aside to cool a bit.
2. Meanwhile, heat the PureAlmond milk over low heat, add in the feta and mash gently with a fork or potato masher. Remove from heat.
3. Add the beans to the feta-milk mixture and mash together.  Scoop the inside of the potatoes into the feta-milk-bean mixture. Using a masher or hand-beater, beat the potatoes and milk mixture until well mixed and fluffy.
4. Fold in the parsley (or fresh herbs) and season to taste.
Disclosure: I was compensated by FitFluential LLC & Silk for this campaign. All opinions are my own.