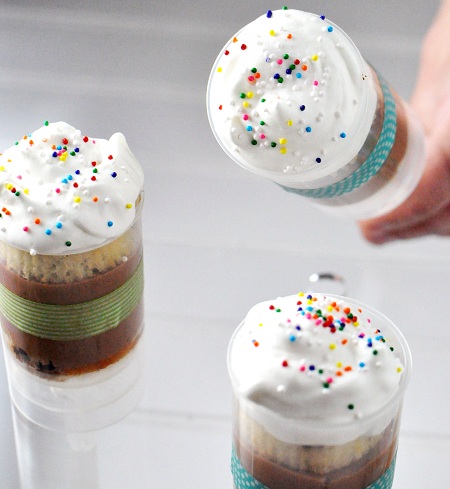 My son is turning 7 this week. I know, hard to believe!
We were blessed yesterday by spending 6 hours with two of their closest buddies and celebrated his birthday.
To celebrate, I made these push-ups pops and gosh, they did get a lively reception.
Oh, before I forget, happy World Nutella Day!
Chocolate Chip Muffin & Nutella Push-Up Pops (Yield = 4)
Ingredients:
4 mini chocolate chip muffins
1 cup plus 1/3 cup of whipped topping or heavy cream that you whip up
1/2 cup nutella
sprinkles
Directions:
1. Prepare 4 push-up pops containers and place in a holder.
2. Fold the nutella and one cup of the whipped cream/topping together and place into a piping  bag or a sandwich bag.
3. Slice each mini-muffin into 3 horizontally and place one slice into the bottom of each push-up pop. Cut the corner of the sandwich bag or using a piping bag, squirt some on top of muffin and top with another piece of muffin, repeat until all muffins slices are used.
4. Spoon some of the plain topping on top and shake on some sprinkles.