I know, I know. You are thinking 'What is with all this pesto Jen?'
Well, I will tell you: I made a batch the other day and have been experimenting with it. So there.
The pesto really just adds a nice boost of flavor to this soup so if you are not a huge pesto fan, no worries with this recipe.
The recipe that I am sharing today is adapted from the book The Good Life For Less: Giving Your Family Great Meals, Good Times, and a Happy Home on a Budget by blogger Amy Allen Clark, founder of Mom Advice.
Like so many families, Amy and her husband were dealt a blow several years ago when her husband lost his job. Just before their first child was born, their plan for Amy to stay home with the baby was scrapped, and they came to the realization that her salary alone could not pay the bills and support their growing family. This financial shock lead her to realize just how important it is to be smart about budgeting and making a little money go a long way.
In the book, she shares many money saving tips from creating a budget to keeping your home organized but you know I gravitated first to the 'Frugal, Generous Kitchen' section. There is so many mind-blowing tips and ideas on planning your meals ahead, prepping your pantry and smart ways to save time and money on food.
Other delicious and affordable recipes such as rosemary ranch chicken kabobs, baked blueberry donuts with a lemon glaze, Italian veggie and pasta soup, and parmesan crusted pork chops that stretch every cent and utilize the efficient tools in your kitchen, such as the slow-cooker, to enable you more time with your kids instead of behind the stove.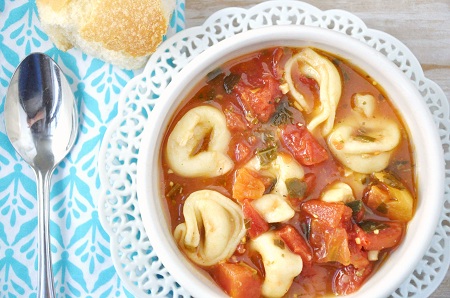 Vegetarian Pesto & Kale Tortellini Soup (Yield = 6)
adapted from MomAdvice.com
Ingredients:
2 cloves garlic, finely chopped
2 tablespoons olive oil
1 28 oz. can of non salt added diced tomatoes
6 cup vegetable broth or stock
1 pound cheese tortellini
1 cup of baby kale
1/4 cup pesto
Directions:
1. In a large pot, heat the olive oil over medium heat and sauté the garlic for 1 minute.
2. Add the tomatoes and broth and bring to a boil over high heat. Add the tortellini and cook according to package instructions.
3. Remove from the heat and store in the baby kale and pesto.