Yesterday the kids and I spent some time out and about as well as cooking.
Later in the afternoon, we made some homemade marinara sauce and this shrimp fried rice recipe.
My son skipped eating the shrimp but the rest of us didn't mind as we get to enjoy additional shrimp.
Make this.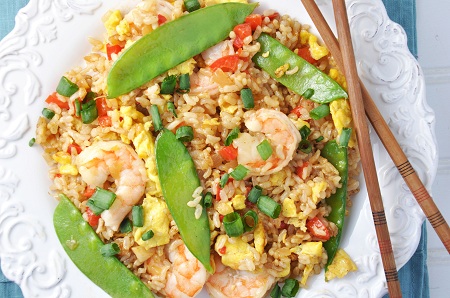 Shrimp & Snow Pea Fried Rice Recipe (Yield: 4 servings)
Ingredients:
3 teaspoons grapeseed or olive oil, divided
2 eggs, beaten
1/3 sweet onion, roughly chopped
1/2 large red bell pepper, chopped
2 cloves of garlic, chopped
2 teaspoons sesame oil
1-2 cups of cooked brown rice
1 lb. 31-40 shrimp, shelled and deveined
1 cup snow peas
1 tablespoon reduced-sodium soy sauce
1 tablespoon sweet chili sauce
1/2 cup chopped scallions
Directions
1. Cook rice according to manufacturer's instructions.
2. Heat 1 teaspoon of grapeseed or olive oil in a wok or large skillet over medium heat. Add the eggs and scramble until just cooked. Remove and set aside on a plate.
3. Heat the remaining 2 teaspoons of grapeseed or olive oil and saute the onions and peppers for 2 minutes, stirring frequently. Then add the garlic, mix well and allow all the cook for 1 additional minute.
3. Remove the onions and peppers from the pan and set on the plate with the scrambled egg.  Add the sesame oil to the pan, lower the heat to low, add the rice, spread it out evenly and leave it alone for about 3-4 minutes as it browns. Don't move the rice, just allow it to 'fry'.
4. Add the shrimp, snow peas, top with the cooked vegetables, eggs, soy sauce, chili sauce and cover. After two minutes, stir and cook until the shrimp is just pink. Toss well, top with scallions and serve.