Out of all the tricep exercises we have been doing the past few weeks, this may be the most challenging therefore, we will start off at 30 seconds.
Simply start the clock and do as many as you can during the time period set for each day.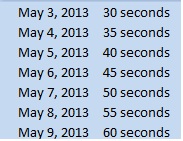 Here is a reference for how to perform the Tricep Chair Dip.
If you need some fitness inspiration, come follow on these Pinterest boards: Health & Fitness Inspiration & Backside Challenge