Most people do not like the word 'chewy' associated with a fish recipe.
But that is what you will get if you do not chop the flaked coconut into small pieces.
Other than that, this is a really fun warm weather meal that will make you crave some time at the beach. Bring your sunscreen!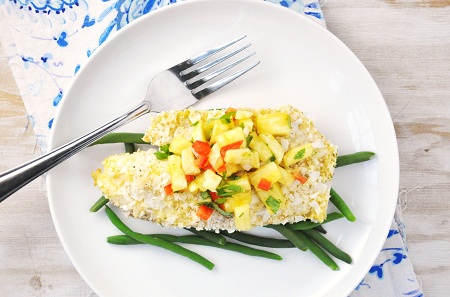 Baked Coconut & Panko Crusted Tilapia Recipe (Yield = 4 servings)
Ingredients:
1/2 cup of unbleached all-purpose flour
2 eggs, beaten
1/4 cup finely chopped unsweetened coconut flakes
1/2 cup panko bread crumbs
salt & pepper
4 pieces of Tilapia, fresh or thawed
olive oil cooking spray
Directions:
1. Preheat the oven to 350 degrees F.
2. Combine the coconut and bread crumbs together on a plate. Place a cooling rack on a baking sheet.
2. Create the following assembly line: A plate containing the flour, a shallow bowl of beaten eggs, and plate with the breadcrumbs/coconut mixture and finally the cooling rack. Lightly season the flour, eggs and breadcrumbs with salt and pepper.
3. Lightly spray the cooling rack with olive oil spray and then place a piece of fish into the flour, followed by the egg, bread crumbs and then onto the cooling rack. Repeat for remaining fish.
4. Once all four pieces of fish are on the cooling rack, lightly spritz each with olive oil spray. Bake for 15-20 minutes depending on thickness of fish.