My kids decided at 10 am this morning that they wanted pancakes. I had S'mores on my mind because we already planned on making a fun s'mores recipe later today, so I said: 'Why don't we toss the graham crackers, chocolate and marshmallow into the pancake batter and see how it tastes?'
Screams of joy were heard throughout the neighborhood.
Please note: The oozing marshmallow on top is for photo effect only – we do not even think you need any syrup on these pancakes.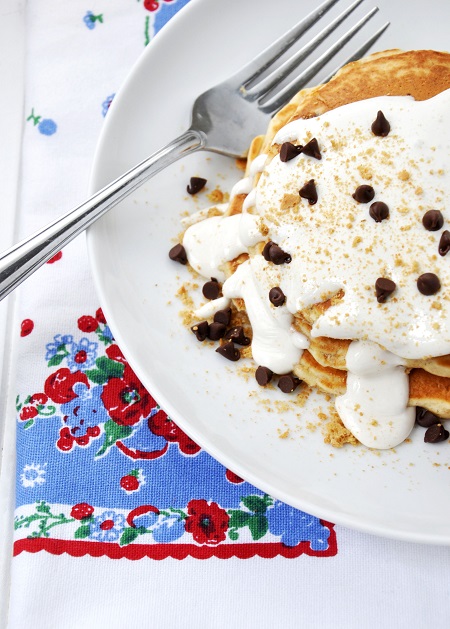 S'mores Semi-Homemade Pancake Recipe (Yield = 4 pancakes)
Ingredients (per 1 cup of prepared batter)
1 cup of prepared batter (We used Trader Joe's Multigrain pancake mix)
2 heaping tablespoons graham crackers crumbs (we crushed some from Whole Foods)
1 1/2 tablespoons milk chocolate chips
2 heaping tablespoons of marshmallow creme (we used all natural by tiny trapeze)
Directions:
1. Fold the ingredients into the prepared batter
2. Preheat the grill or pan to 350 degrees. Pour four heaping 1/4 cups of pancake batter onto the grill/pan and cook until bubbles appear. Flip and finish cooking the pancake.