During the Johnny Cake Festival, our next door booth neighbor, Jens from Wicked Natural (who's products we used in Rhode Island Recipes), kept telling some of the attendees about an amazing recipe.
He kept saying 'You have to use the cranberry mint jalapeno jelly on chicken wings'. After a few hours, I asked him to hold a jar of the jelly for me because I am going to test it out and see if the recipe lives up to his declarations.
He handed me a jar and said, give it a go. I gave it a go. He was spot on.
In conclusion, the lesson is: Grab your condiments any night of the week and use them to make a basic meal more interesting.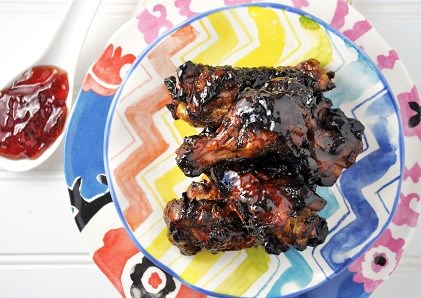 Cranberry Mint Jalapeno Chicken Wings Recipe
Ingredients:
2-3 lbs of chicken wings (thawed)
1 cup Cranberry Mint Jalapeno Jelly (or your favorite sauce)
Olive oil cooking spray
Directions:
1. Preheat oven to 450 degrees and prepare the baking sheet by placing a cooling rack on it (it helps to crisp the skin).
2. Spray the cooling rack with the cooking spray, place wings on the cooling rack and bake for 25-30 minutes.
3. Remove the chicken wings and place into a large bowl, toss with the jelly and serve.
Want more chicken wing recipes? How about some Sweet-n-Tangy Baked Honey Mustard Wings or Baked Balsamic Honey Coffee BBQ Chicken Legs & Drumsticks.