A fabulous fellow foodie, Annemarie, is guest posting for me today. Not only is she full of great tips, but she is also the author of a new book, that I am going gaga over! I will be sharing more details about her book this weekend so stay tuned and visit often!
"By shopping at a farmers' market, you can support the local agricultural community and minimize your carbon footprint. You also reap the rewards of freshly picked produce, which is often much tastier and more nutritious than produce at the grocery store. By depending on local farmers for your fruits and veggies, you'll be eating the freshest seasonal produce available."
–Conquering Your Kitchen, p. 141
Farmers markets have grown in popularity in recent years as consumer interest in buying directly from farmers has increased. With over 8,000 farmers' markets in the United States, many people have a great alternative to grocery store produce.
Shopping at the farmers' market takes some finesse, though.
Follow these five tips to have a successful experience at your local farmers' market.
Take your time enjoying the farmers' market.
This is a more festive community environment than you'll find at the grocery store. Don't rush in and out. Take time to browse and chat with the vendors and the other shoppers. Get to know the farmers, and ask them about what they're selling. They usually love to talk about their crops or products. Breathe in the fresh air and enjoy shopping outside.
Take advantage of the best produce at the beginning of the day.
At some farmers' markets, the best produce disappears in the first hour. Farms typically have a smaller supply of crops that are just coming into season, so you'll want to get to the market early to get your hands on those crops.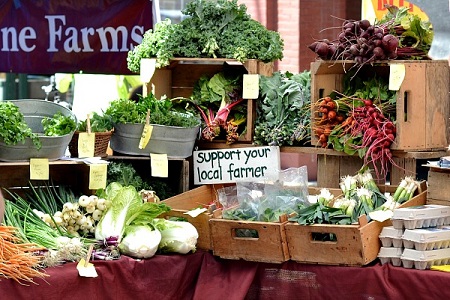 Take advantage of discounted prices at the end of the day.
If you can't get to the farmers' market until later in the day, it's a good idea to show up 30 minutes before closing. Farmers want to sell as much as they can, so they'll often discount prices at the end of the day. Don't be shy about asking for a deal if you want to buy a large quantity of a certain item. If you need lots of strawberries to make a big batch of jam, for example, there's a good chance the farmer will give you a pint for free because you're buying in bulk.
Set a limit on prepared food.
Those $3 brownies may look amazing, but keep in mind that they're probably full of processed ingredients and more sugar than you'd expect at a farmers' market. Decide ahead of time whether you'll be splurging on prepared foods, and set a budget. Ask questions so you know what you're eating.
Get your kids in on the action.
The farmers' market is a great place for children of all ages. I recommend giving your children a few dollars to spend on any unprocessed food they want at the market. This is a good way to get them to try new vegetables that they wouldn't be so inclined to try on their dinner plates. Many markets have live music and a playground nearby, so plan to spend time enjoying these side elements as well.
By shopping wisely at the farmers' market, you can support your local growers while sticking to your grocery budget. Visit Local Harvest to find a farmers' market in your area. Enjoy this unique shopping experience with your family, and bring lots of goodies from the farm to your dinner table.
Annemarie Rossi is the author of Conquering Your Kitchen and the creator of Real Food Real Deals. Her website provides recipes and tips to help families eat real food on a budget. Annemarie's work has been featured in many places, including the Non-GMO Cookbook, Edible Boston magazine, Fox News Online, Babble, and Spry Living. She lives in the Boston area with her husband and two children.