Wow, Wednesday night's #GiveDeerCheer Twitter party with Dancing Deer Baking Co. was fun and sweet. Now when I say sweet, I do not mean sweet because of the Dancing Deer baked goods – although they are delicious – but because of all the memory sharing and reminiscing that we did.
In case you missed it or hoped to win a gift basket but didn't, you now have a second (and third) chance because, drum roll please… I am giving away TWO top-selling Holiday Gift Baskets*
Before I share giveaway details, I must share more about the Sweet Home for the Holidays Gift I ordered from Dancing Deer. It contained (note the past tense): 16 cookies and 8 brownies, including 8 Molasses Clove, 8 Triple Chocolate Chip, 4 Chocolate Chunk Brownies, 4 Caramel Sea Salt Squares (to die for!) and one artfully packaged Sweet Home cookie. AND 35% of the retail price goes to One Family, Inc. scholarships to help homeless and at risk parents further their education. I may have a few to gift… or maybe not.
I adored how lovely the packaging was – the house the items came in was perfect. When I opened the box, there was a card that identified when the items were packaged, and each cookie and brownie was packaged as shown below.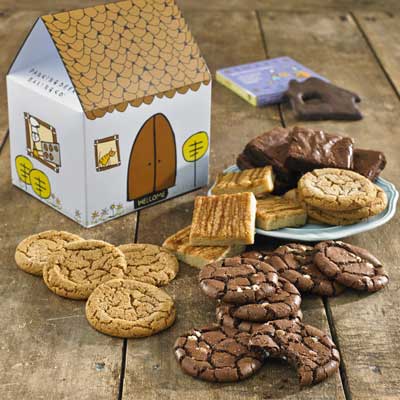 My favorite from the assortment were the Caramel Sea Salt Squares since they were the least sweet and I am slightly obsessed with caramel. My husband likes the spicy bite to the Molasses Clove cookies and my daughter ran off with the Chocolate Chunk brownies. My son commented that the Triple Chocolate Chip cookies were better than Daddy's cookies – I wish I had a taken a photograph of my husband's face after that statement.
The only item we have not bitten into yet is the Sweet Home cookie. The packaging is so cute that it makes me feel a little guilty from ripping into it, but I suspect I will get over that once we finish off the remainder of the goodies.
Now on to the giveaway: To enter, simply leave a comment answering this question: 'What unique holiday gift-giving traditions does your family have?'
The giveaway ends on December 19th, 2014 at 11:59 p.m. The winner will be randomly chosen and must respond within 24 hours of being notified or another winner will be chosen.
Plus, I secured a promotion code just for you all! Sweet, right? Order from DancingDeer.com within one week using code Thyme25 to get 25% off.
*Winners will receive the Sweet Home for the Holidays Gift or a gift of equal value
Disclosure: I was paid for my time and given a gift basket. All opinions are my own.