Each September, I hear the same thing, and it starts something like this: "Thank goodness school is back in session!" quickly followed by "Only 572 school lunches left to make".
Do.Not.Fret, I am here to help! I have teamed up with Stop & Shop to share tips, and a recipe, to help you feel less frazzled about what to pack for school lunches.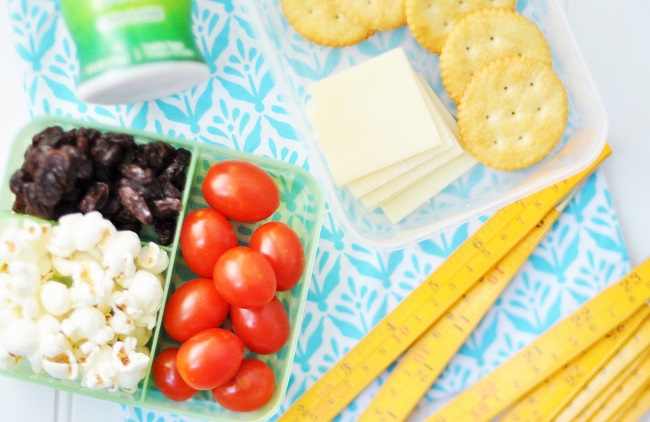 Like most of you, I start at the grocery store. My favorite local grocery store is Stop & Shop in Westerly, R.I., and I am a huge fan of their own line of organic and natural foods, called Nature's Promise.
Stop & Shop has everything I need to make quick, easy, and budget-friendly school lunches (The every day, and sale, prices on all their foods they carry are truly affordable). In addition, they carry a wide variety of gluten free, and foods for those with allergy sensitivities.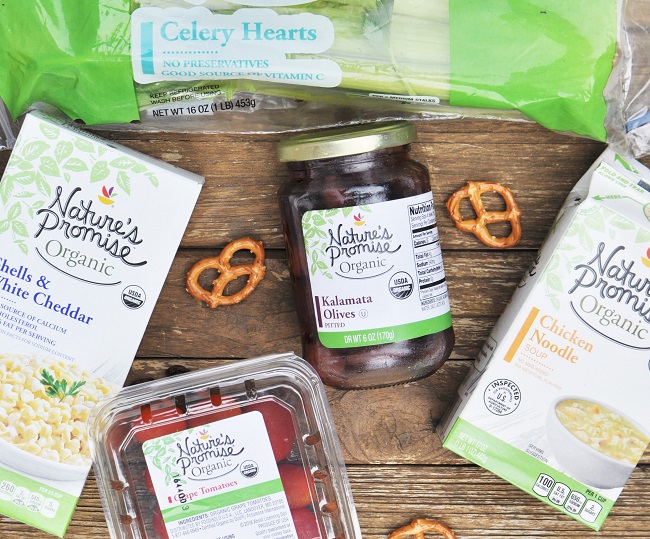 But before I give you my nine (yes, 9!) tried and true school lunch tips, tricks and ideas, I want to share a few survey results that Stop & Shop shared with me:
50% of kids selected that they wish they had more lunchbox meal options and a larger variety -> got cha covered!
14% of kids wish they had healthier lunchbox meal options -> oh, I have ideas for that too – just look at the photos!
69% percent of kids in New England bring their lunch to school at least a few times a week and 27% reporting that they bring their lunch every day -> that is a lot of lunches to compose, so read below!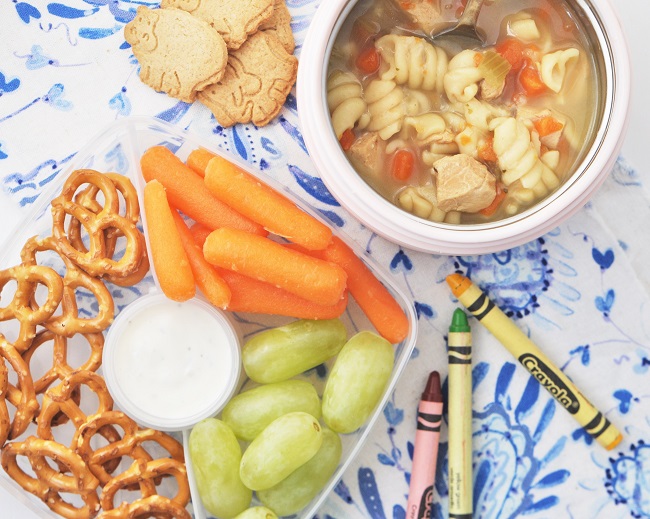 You do not need to plan five school lunches per week: That's right, plan three and get creative with the rest. Did you buy sliced turkey for a sandwich? How about using it two days later by making turkey and cheese cracker stacks? Have leftover chicken? No problem, toss some on a salad or make a quesadilla.
Go vegetarian some days: Every day does not mean a main meat or poultry. Try packing boiled eggs, potatoes, yogurt drinks, granola, a salad wrap or muffins.
Make it mini: Try mini egg cups, mini pizzas, mini bagels, mini muffins, mini cheese cuts, mini tomatoes, mini pretzels, etc.
Kids can make their lunch: Depending on their age, you can give them your school lunch rules, and let them pack their own lunch.
Prep and pack the night before: When I tell this to my friends, I can see a light bulb go off over their head.
Lunch does not always = sandwich: Think outside the box. You do not need one main dish or component, but instead do a handful of items: a fruit, vegetable, protein, how about a soup or even leftovers from dinner?
Dive into dips: Kids love dips, so take advantage and pack a side with veggies! Some favorites include ranch, hummus, yogurt, pesto, BBQ sauce, non-nut butters, and more!
Take short-cuts: Premade salads, rotisserie chicken, premade sushi, wraps.
Some like it hot: Hot dogs, soup, noodles, mac-n-cheese, slices of lasagna, spaghetti and meatballs, or leftovers.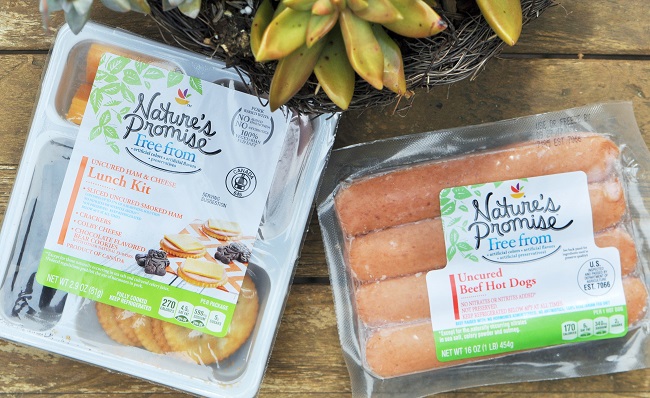 Now onto the recipe you've been drooling over since you read the title of this post: Quinoa Meatball Lunch Box Sliders. You can serve these over spaghetti for dinner and then, two days later, pack them lunch with fresh rolls. Depending on the age of your child, you may wish to cut these in half to make it easier for them to eat – pack a spoon for scooping!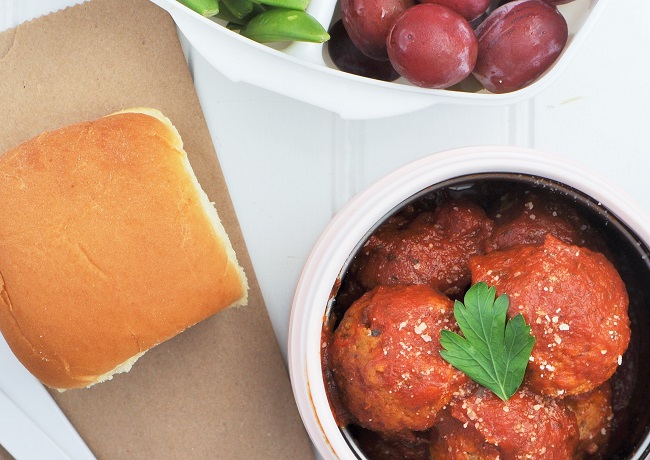 Quinoa Meatball Lunch Box Sliders
Ingredients*:
1 cup panko bread crumbs (nature's promise has a gluten free version)
1/4 cup milk
1 lb. ground beef
½ cup cooked quinoa
1/3 cup sweet onion, finely chopped
1 clove garlic, minced
1 tablespoon chopped fresh flat-leaf parsley
1 large egg
3/4 teaspoon salt
1/4 pepper
Fresh rolls
Directions
1. Preheat oven to 350 degrees Fahrenheit. Combine bread crumbs and milk in a bowl, mix and set aside for 5 minutes.
2. In a separate large bowl, combine the quinoa, ground beef, onions, garlic, parsley, egg, salt, pepper, and breadcrumb mixture.
3. Form the beef mixture into balls (each using about 1.5 tablespoons of mixture); arrange in a single layer on a rimmed baking sheet lined with unbleached parchment paper.
4. Bake for 25-30 minutes.
Pack these in an insulated jar to keep warm.
*All of the ingredients can be found at Stop & Shop, and most in the Nature's Promise line.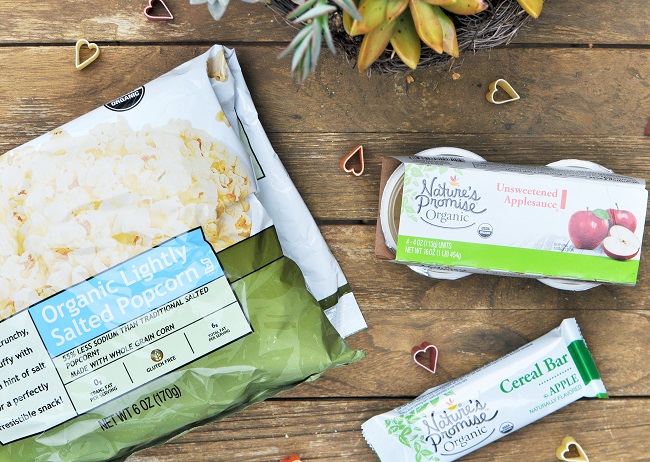 Disclosure: Stop & Shop compensated me for my time and efforts. All opinions are my own.