My paternal grandmother cooked the classics from both American and German cuisine. One recipe I remember fondly was when she made Swedish Meatballs served over egg noodles.
I have made meatballs for you but they are usually a bit lighter however, once in a while you need the comfort of classic recipes.
This recipe came from the latest release from Yankee Magazine titled 'Lost & Vintage Recipes' and contains favorites including: deviled eggs, chicken waldorf salad, succotash, chicken a la king, coffee cake, back & white cookies and a spicy rum punch.
Delish right? I would be happy to give you a copy (see below)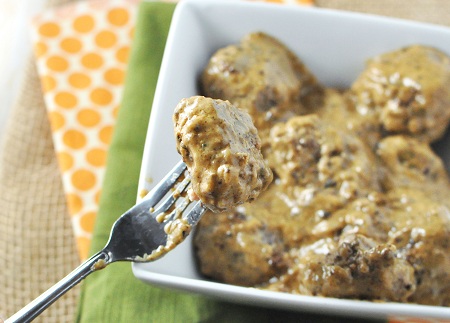 Classic Swedish Meatballs (Yield: 6 to 8 servings)
adapted from Yankee Magazine Lost & Vintage Recipes
For the meatballs:
3 slices whole wheat bread
1/2 cup 1% milk
1/2 small sweet onion, minced
2 cloves of garlic, minced
4 tablespoons unsalted butter, divided
1 1/2 teaspoons kosher or sea salt, divided
1 1/4 pounds ground pork
2 large eggs
a handful parsley, chopped
1/2 teaspoon freshly ground black pepper
¾ pound ground beef
For the gravy:
2 tablespoons unsalted butter
1/3 cup unbleached white whole wheat flour
1/2 teaspoon kosher or sea salt
3 cups reduced-sodium beef or chicken broth
1/2 cup half and half cream
Directions:
1. Break bread slices into small pieces and put in a medium bowl. Pour milk over bread and toss with your hands to moisten evenly. Set aside. In a medium skillet over medium heat, cook the onion in 1 tablespoon butter with 1⁄2 teaspoon kosher salt until translucent, about 4 minutes. Toss in the garlic, stir for 30 seconds to a minute. Remove from heat.
2. Drain excess milk from bread, squeezing lightly. Add to the bowl of a standing mixer (or if using a hand-held mixer, leave in bowl). Add onion and garlic mixture, pork, eggs, parsley, remaining 1 teaspoon salt, and pepper and beat until smooth, 3 minutes, scraping down sides occasionally as you go. When mixture is smooth, break ground beef into very small pieces and stir just until evenly distributed.
3. Roll the meat mixture into balls with your hands and set aside.
4. Melt 2 tablespoons butter in a large (ideally at least 14-inch) pan over medium heat. Add a batch of balls to pan and cook, turning frequently with tongs, until browned on all sides, 8 to 10 minutes. When the first batch is done, put in a deep dish and cover with foil. Add remaining 2 tablespoons of butter to the pan and brown second batch of meatballs. Repeat as needed; transfer all the meatballs to the deep dish while you make the gravy.
5. Increase heat under pan to medium-high. If your pan has some drippings, add 2 tablespoons of butter; if not use 3. Add flour and salt and whisk; the mixture will be crumbly. Add broth 1 cup at a time, whisking constantly until smooth. Add half and half at end and stir well. Lower heat to low, add the meatballs back to the pan and allow to cook another 5 minutes.
What, you don't think these look pretty? too sloppy for you?
Fine, let's see if my friend can persuade you to think otherwise.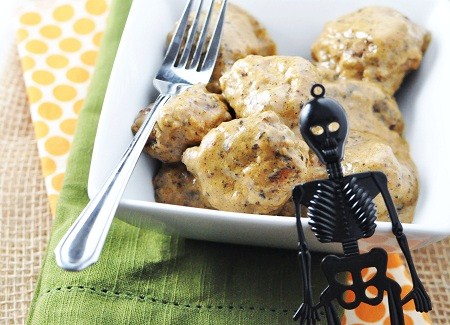 This giveaway is closed
To enter, comment on this post telling me: What is a favorite 'classic recipe'?
For additional entries (read carefully):
*RE-PIN my pin to one of your boards & leave a comment with your pin link: http://pinterest.com/pin/5699936999868744/
*Tweet this giveaway (leave the twitter link in a comment): 'Classic recipes galore in this @yankeemagazine giveaway from @savorthethyme http://su.pr/8oLcdL'
*Follow @savorthethyme on Twitter (and come tell me your twitter handle)
All entries must be received by Monday, October 22nd 11:59pm ET. The winner must respond within 48 hours upon notification of winning or a new winner will be chosen.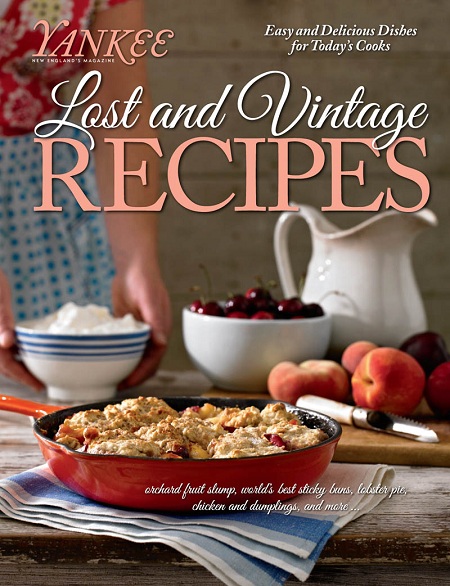 Disclosure: I was given a copy too!